Building Active Communities Initiative (BACI)
Healthy Communities - Built Environment and Active Communities
Building the Case for Active Communities
Obesity and sedentary lifestyles are major contributors to chronic disease for both adults and children. In 2011, nearly two-thirds (60%) of Montana adults were overweight or obese and nearly half (45%) did not meet recommendations for aerobic activity.i In that same year, over 40 percent of Montana 7th and 8th grade students and 70 percent of Montana high school students did not get the recommended 60 minutes of daily physical activity necessary for health and to reduce their risk of chronic disease.ii
Shelby Trail in Shelby, MT
It is clear that the way we design our communities—our buildings, landscapes, streets and neighborhoods—influence the way we live and therefore can affect our health and well-being. Adopting healthy behaviors, such as physical activity, is easier if our environment is built to support us in making healthy choices.
What is an active community?
An active community is a place where it is easy and safe for people of all ages and abilities to walk, use a wheelchair or assistive device, bike or take public transportation for their everyday routines. These routines may include walking to school; commuting by bus to work; or doing everyday errands by bike. It is also a place where children can safely ride their bikes to a nearby park; seniors can stay in their homes as they age and still get around without having to drive; and children with disabilities can play with their friends on inclusive playgrounds and schoolyards built to accommodate everyone's needs.
Why do we need active communities?
The need for more walkable, active Montana communities is pressing. Local governments, businesses and families are faced with a crisis of rising healthcare costs driven by ever increasing sedentary lifestyles and preventable chronic diseases. Poor access to active transportation and recreation opportunities is putting America's youngest generation at risk for living shorter and less healthy lifespans than their parents' generation. At the same time, demand is on the rise for safer and more accessible communities to better serve people with disabilities and the growing numbers of seniors Finally, local leaders are recognizing the economic benefits of safe, walkable, bikeable and accessible communities, including the opportunity to attract new businesses, tourism and a stable, well-paid workforce.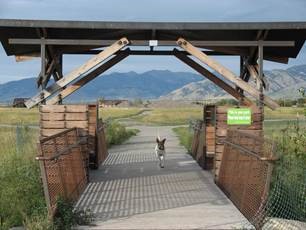 Gallatin Regional Park in Bozeman, MT
A multi-faceted approach
Local policy decisions governing the built environment (transportation, land use, and community design), influence many aspects of our daily lives:
safety and attractiveness of neighborhoods
distances people travel for work, school, recreation, shopping, and to reach other destinations
transportation and housing options
economic and environmental resiliency of the local economy
convenience of purchasing (or growing) healthy foods