"What Works in Montana" Poster Showcase
Apply to be a part of the "What Works in Montana" Poster Showcase which will spotlight successful projects aimed at economic vitality, community health improvement and research. Click on an icon below to start your application! More information about the different categories is available in the "Poster Categories" section below.
Application deadline is Friday, March 6!
Tell Us What Works in Montana!
Please submit an application highlighting a successful project, initiative or research study in your community. If accepted, you will represent your work at the "What Works in Montana" Poster Showcase and Networking Reception at the Montana Healthy Communities Conference on Tuesday evening, April 28th.
Up to 25 projects will be selected for poster production and display.
What are we looking for?
We are interested in projects involving one or more industry sectors working together to improve economic vitality and health. Topics may include, but are not limited to: developing economic opportunities, physical activity and active living, promoting a culture of health, mental health access and continuity of care, quality early childhood education or services, addressing social determinants of health and health equity (transportation, legal, development, etc.), universal design or access for those with disabilities, worksite wellness and access to: healthcare, healthy foods, healthy, supportive and/or affordable housing, internet and/or broadband.
The project may take shape in the form of a program, policy, physical structure, campaign, tool, financing initiative, or other collaboration effort.
Poster Categories
*Student posters are welcome in both categories.
1. Community Success
Posters spotlighting cross-sector engagement through coordination, cooperation and collaboration, guided by proven practices, policies and smart investments that overcame barriers of time, trust and turf.
Questions? Contact Chelsea at chelsea.culpon@montana.edu.
2. Research for Healthy Communities
Posters spotlighting community based participatory research that links Montana communities to the researchers in Montana universities.
Questions? Contact James at jburroughs@montana.edu.

Requirements
Submissions must:
Be targeted toward improving the economic vitality and community health of Montana residents and communities.
Show signs of proven success.
Include project partners from multiple industry sectors. This may include multiple organizations such as a partnership among a school district, a health nonprofit, and a regional community development corporation OR be within a single agency, (e.g., county economic development and county public health).
Examples
View examples of a mock 'What Works in Montana' application and cross-sector community health improvement posters from 2017.
Mock Application (coming soon)
Community Success Poster Examples from 2017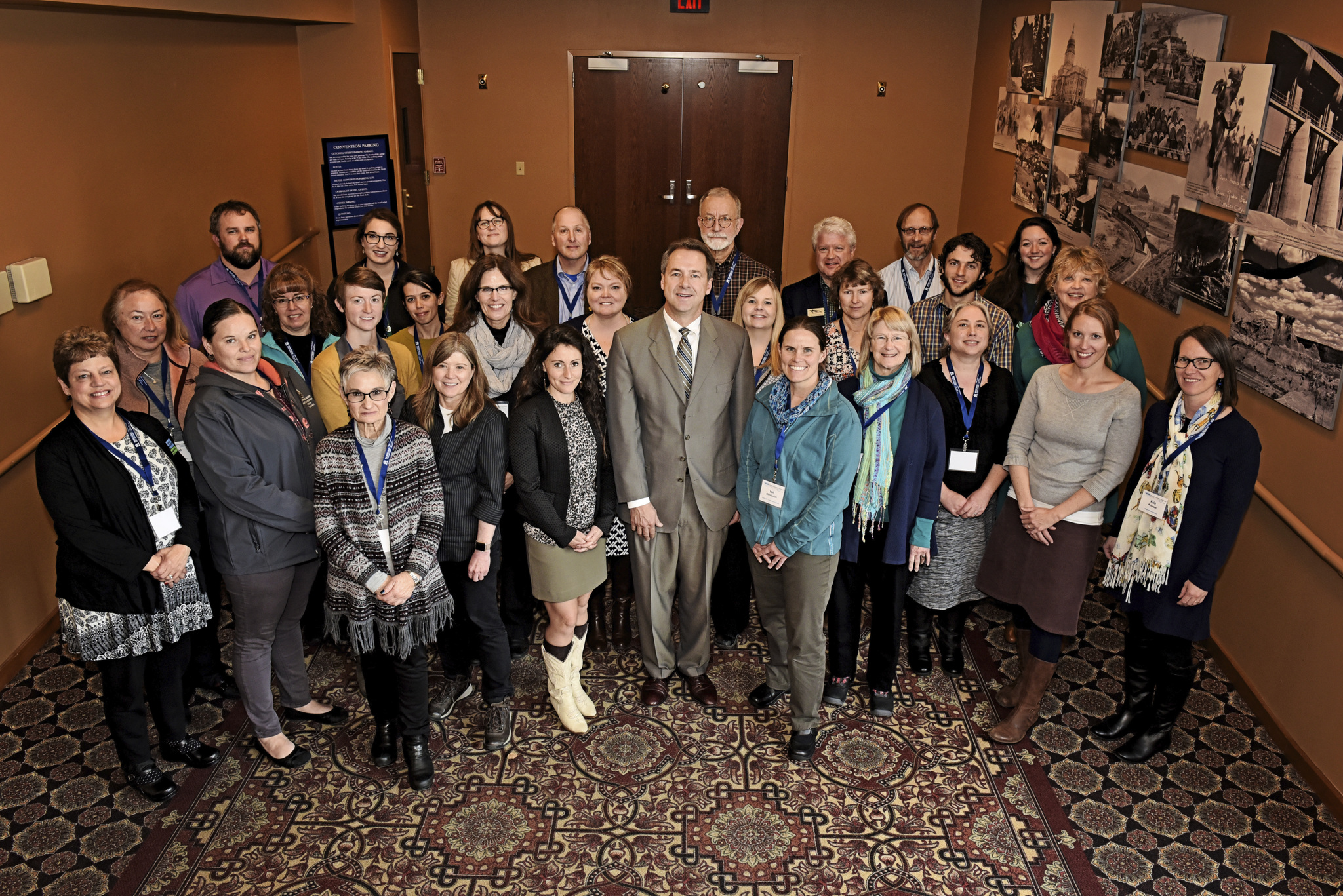 2017 Poster Presenters with Governor Steve Bullock