In-A-Box Curriculum Program
Introduction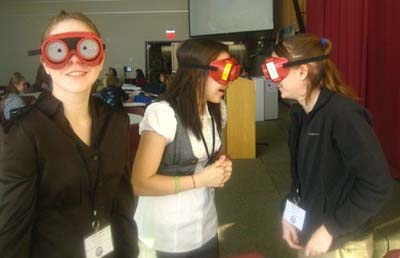 Students using Eye In-A-Box
In-A-Box is a "traveling resource" program that is designed to enhance science and health curriculum. It is a 5 part series that covers the body systems of eye, ear, brain, guts, bones and muscles, heart, and mouth. These self-contained boxes are available for loan to educators for grades 4-8. Included in the box are lesson plans, station activities, models and other resources designed to engage students in health and science. This hands-on program is a great way to get our students interested in the healthcare industry! Part of the Montana AHEC mission is to introduce students to math, science, and health and get them thinking about healthcare careers at a younger age.
Kits
There are many opportunities to integrate health professions into math, science, and especially health education.
To assist teachers in doing so, we have the "In A Box" curricula. Kits available include:
Kits may be loaned out for classroom use. The only cost incurred is return shipping of the kits to an AHEC office (approximately $35). Contact us to initiate this process.
MT AHEC Region Map