Healthcare Pipeline Activities for Secondary Students
Building the pipeline for tomorrow's healthcare professionals
Grow Our Own: a strategy to increase the healthcare workforce in Montana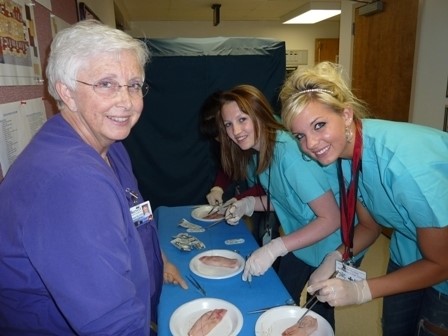 The healthcare workforce in Montana is experiencing shortages and significant maldistribution of professionals throughout the state. As healthcare needs grow at a rapid pace, the workforce required to address that need may not be available, particularly in rural and underserved areas. The Montana Area Health Education Centers (AHECs), along with the Office of Public Instruction, the Office of the Commission of Higher Education, and numerous other collaborative partners, are committed to build the healthcare workforce pipeline. Encouraging young people to excel in math and science, explore healthcare careers, enter Montana health professions education and receive clinical education in rural communities pays off in future physicians, nurses and allied health professionals.
HOSA—Future Health Professionals: The purpose of MT HOSA-Future Health Professionals is to develop leadership and technical skill competencies through a program of motivation, awareness and recognition, which is an integral part of the Health Science Education instructional program.
For details about starting a chapter, or if you'd just like to learn more, please visit us at www.montanahosa.org
MedStart Summer Camp: A program designed to encourage high school students who are in sophomore and junior grade levels to pursue their interest in a variety of healthcare careers. The aim of MedStart is to provide rural, disadvantaged / minority, low income and first generation college students with an opportunity to further explore healthcare careers, learn about college life, and realize the possibility to pursue higher education. Students often think of healthcare as including only "doctors and nurses" -- MedStart tries to break down that stereotype by educating students on the large variety of high skill, high paid, high demand careers available in the healthcare industry. The week-long program, held on a college campus, includes:
Hands on healthcare activities such as sheep heart dissection, blood typing, suturing on pig's feet, casting, and taking blood pressures.
Shadowing with health professionals
Medical tours and symposia
College support sessions on financial aid, admissions and college life
Recreation and social activities
After camp each regional AHEC office matches the MedStart student with a healthcare professional from their hometown in the hopes of establishing a mentor/mentee relationship and continuing the job shadowing process. Tuition with multiple scholarship and financial aid opportunities are available, contact your local AHEC regional office for more information.
Many scholarships are available, however, due to the competitive nature of the camps students are encouraged to apply early. NOW EXTENDED - Applications must be postmarked no later than April 1, 2016. 2016 MedStart Summer Camp Application
The 2016 MedStart Summer Camp Schedule includes the following dates and locations;
Missoula: June 12-16
Great Falls: July 10-14
Miles City: July 17-21
Butte: July 24-28
Billings: July 31-Aug 4
REACH Camps: Research and Explore Awesome Careers in Healthcare is a one-day camp which takes place at the local healthcare facility. REACH provides high school students with the opportunity to explore many healthcare fields through a variety of hands-on stations and activities. Professionals from the sponsoring healthcare facility lead the stations, volunteering their time and talent to mentor students and share their expertise.
In-A-Box Curriculum Series: Covering the body systems of eye, ear, brain, guts, and bones and muscles, heart, and mouth, these self-contained boxes are available for loan to educators for grades 4-8. Included in the box are lesson plans, station activities, models and other resources designed to engage students in health and science.
Additional Resources:
Pathways to Health Careers in Montana: Brochure listing post-secondary education opportunities in healthcare careers at Montana colleges and universities. Includes information for certificate as well as associate, bachelor, master and doctoral degree programs. Brochure is widely distributed to high school students throughout the state.
Newsletters: The K-12 Health Science Connection E-newsletter is disseminated monthly to educators through the MT AHECs. Newsletters provide resources and lesson plan ideas for teachers, administrators, counselors and students related to health science education (See newsletters below). If you would like to sign up for these newsletters, please click HERE