Health Equity Assistance Fund
The State of Montana has received funding in a two-year grant from the Center for Disease Control and Prevention (CDC) to Address Health Disparities and Advance Health Equity Among Populations that are at High-Risk and Underserved. The funding is part of the federal COVID response under the American Rescue Plan. The CDC specifically required an allocation of funds for rural areas. The funds are provided through a two-year CDC grant (ending on 5/31/2024) to MT Department of Health and Human Services (DPHHS). DPHHS is contracting with the Montana Office of Rural Health/Area Health Education Center (MORH/AHEC) to implement the project.
Health Equity Mini Grants
The map below shows where MORH/AHEC funded mini grant projects are located across the state. Blue pins indicate Health Equity Mini Grant sites while Yellow pins indicate Mental and Behavioral Health Mini Grant Sites. You can read about each project below.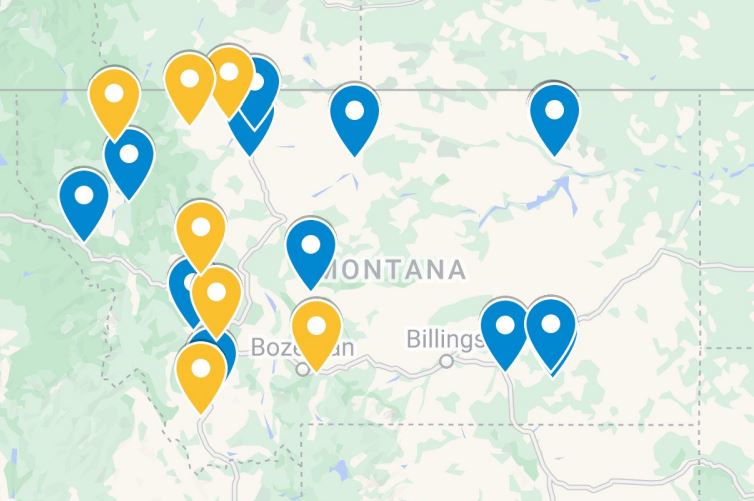 Health Equity Mini Grants are designed to support projects around the state that work to advance health equity for communities most heavily impacted by health disparities.
Funded Projects May 2023 - May 2024
Region
Organization
Priority Area
Project Description
Western
Mineral County Health Department

Access to Care

STI Prevention

Increase access to discrete education, testing, and treatment for Hepatitis C, HIV, chlamydia, gonorrhea, and syphilis within Mineral County.
Snqweylmistn

American Indian Leadership in Health Equity

Nutrition

Teach the importance of traditional gathering of foods and medicines through experiential learning for youth on the Flathead Reservation to address food insecurity in the community.
North Central
Big Sandy Medical Center

Access to Care

Transportation

Screen area residents for pre-diabetes and Type 2 diabetes by offering free A1C lab testing to American Indians, Hutterites, and older adults.
Lewis and Clark County Public Health Department

Access to Care/Screening

Aging Population

Provide outreach and education to women in Meagher County regarding the
importance and availability of breast and cervical cancer screenings and increase the number of women in Meagher County who receive screening.
Logan Health - Conrad

Access to Care

Bring Point of Care Testing (POCT) into the local school district in order to provide better access to care for students and faculty and allow for rapid assessment of community illness.
Toole County Health Department

Injury Prevention

Chronic Disease Prevention

Provide properly fitted helmets to children in the community ages 2-19 to prevent injuries, promote exercise, and promote the use of new community skate park and play structures.
South Central
Beaverhead County Resource Assistance Center

Service Coordination

Low Income Services

Provide assistance to individuals as they seek to obtain state and federal public assistance such as Medicaid, SNAP, and LIHEAP coverage, provide education to community members on available resources, and make referrals.
Anaconda Family Resource Center
Service Coordination
Facilitate meetings in Phillipsburg, Deer Lodge, and Anaconda to identify gaps in service and present ideas on how to fill the gaps in service through collaboration and collective impact.
Eastern
Messengers for Health

American Indian Leadership in Health Equity

Access to Care

Improve ability for Apsáalooke (Crow) tribal members to attend medical appointments that are located outside reservation boundaries by
providing transportation assistance.
2023 Tobacco Warrior Summit

American Indian Leadership in Health Equity

Substance Use Prevention

Mental and Behavioral Health

Support the 2023 Tobacco Warrior Summit which addresses the abuse and prevention of commercial tobacco in tribal communities as the primary disparity and also takes into
consideration co-existing disparities such as mental health, suicide risk and or drug and alcohol addiction, and chronic disease.
Pėhévėstao'omenehe (Have a Good Life)

American Indian Leadership in Health Equity

Mental and Behavioral Health

Provide a three-day outdoor summer camp for Northern Cheyenne male youth to connect with
Cheyenne land, identity, mentors, traditional activities, and cultural ways of integrating nutrition and mental health.
North Eastern
Valley Care Coalition

Transportation

Low Income Services

Behavioral Health

Increase access to affordable, nutritious food resources in Valley County by providing the local food bank with improvements needed for better food storage and distribution, provide transportation assistance to visit the food bank, medical appointments, and social service appointments.
Frances Mahon Deaconess Hospital

Access to Care

Transportation

Improve transportation access to Frances Mahon Deaconess Hospital for patients who do not have adequate transportation in place.
The Montana Office of Rural Health/AHEC received additional funding through our Behavioral Health Workforce Education and Training grants to support community mental and behavioral health projects across the state. These grantees were chosen out of the competiveve mini-grant pool.
Funded Projects Summer 2023
Region
Organization
Priority Area
Project Description
Western
Logan Health - Whitefish

Access to Care

Behavioral Health

American Indian Leadership in Health Equity

Form a local grassroots Indigenous Elder community in and around the Badrock Canyon area to develop community, resources, opportunities, and information to increase health equity, resilience, and wellness across the lifespan.
North Central
Logan Health - Cut Bank

Access to Care

Mental and Behavioral Health

Provide additional behavioral health education, outreach and increased mental health care access to community members through school based care.
Blackfeet Tribe

Aging Services

Behavioral Health

American Indian Leadership in Health Equity

Provide information to elders 65+ and youth on the damages of commercial tobacco and bring in community members to teach about
traditional tobacco in ceremonial purposes of Native American culture.
South Central
Butte Cares
Mental and Behavioral Health
Implement the CDC's Health Equity Guiding Principles for Inclusive Communication on all social media and radio advertisement communications about suicide and substance use prevention that reach the 12 counties that comprise the South Central AHEC region.
Powell County Council on Aging

Aging Services

Mental Health

Begin a program to match community volunteers with seniors and people with disabilities to provide socialization to combat loneliness, isolation, depression, and anxiety.
Suffer Out Loud

Mental Health

Low Income Services

Provide Mental Healthcare Scholarships to low-to-moderate income individuals so they may pay for
counseling sessions with a licensed mental health professional.
The Early Childhood Coalition of Beaverhead County

Mental and Behavioral Health

Access to Care

Provide training funds to support mental health and trauma-informed practices to organizations and individuals working with youth at risk for, or currently experiencing, behavioral health challenges in Beaverhead County.
Funding: This funding aims to encourage collaboration between grassroots organizations, critical access hospitals, and public health. Funding is structured accordingly.
Funding Restrictions: Funding may not be used to purchase food, vehicles, or incentives (gift cards). These federal funds can not be used to supplant local or state funds. Indirect costs may not exceed 10%.
Funding Structure
Organization Type
Total Eligible to Apply for
Notes
Grassroots
$5,000
Grassroots American Indian Focus
$8,000
Critical Access Hospital Alone
$5,000
Partnership

$15,000 or

$18,000

Partnerships between grassroots and hospital OR grassroots American Indian focus and hospital = extra $5,000
Public Health
$2,000
Bonus $2,000 for any project that includes local public health department
Max Total
$20,000
Per region
Eligibility: Eligible entities include non-profits, Critical Access Hospitals, and local Public Health Departments. Community groups may use a fiscal administrator. Multiple submissions from each region are allowed and multiple projects may be funded in each region, not exceeding $20,000.
Requirements: Funded projects must impact a rural community or population and align with findings from a local Community Health Needs Assessment or Community Health Improvement Plan.
Timeline: Funding will be dispersed May 1, 2023, and the grant period will end May 1, 2024.
** This is anticipated to be one time funding **
Reporting: Funded entities will be required to meet quarterly with MORH/AHEC to discuss progress and provide project updates including activity and budget updates.
Preference points: Preference points will be award to projects that impact American Indian communities, align with health equity priority areas defined by regional task forces, and include partnership between non-profits, Critical Access Hospitals, and local public health departments.
Western:
Behavioral Health

American Indian Leadership in Health Equity

LGBTQIA+ Education in Healthcare
North Central:
Transportation

Aging Population

American Indian Leadership in Health Equity
South Central:
Service Coordination

Behavioral Health /SUD Mental Health

Aging Services
Eastern:
American Indian Leadership in Health Equity

Access to care

Behavioral Health/SUD and Mental Health
North Eastern:
Behavioral Health/SUD and Mental Health

Workforce

American Indian Leadership in Health Equity
Health Equity Training Funds
The Montana Office of Rural Health and Area Health Education Center has funds available for organizations that impact rural communities and their health seeking training for staff in the following areas:
Racial and ethnic minorities
Rural health
LGBTQ+
Disability
People 65+
Religious minorities
Low socioeconomic status
The intent of this funding is to provide organizations with the financial support they need to receive training and professional development on the above topics. Organizations may choose trainers or guest speakers they feel best suit their organization however trainers selected by funded organizations must reside in Montana. Out of state offerings may be considered but not favored.
These funds will be released in three $15,000 cycles throughout the year. Applicants may apply for up to $5,000 each. Organizations or individuals who have not been funded by previous cycles will be given higher priority than those who have been previously funded.
Cycle 1 Funded Entities:
Nurtured Growth Learning Center, Inc.
Open Aid Alliance
Calling Our Spirits Forward
Montana Health Professionals for a Healthy Climate
Cycle 2 Funded Entities:
Partnership Health Center
Missoula City-County Health Department
St. Peter's Health Foundation
Cycle 3: Opens October 1 - Closes November 1