Telehealth Assistance Program
Requests for Applications Closed 4/30/22.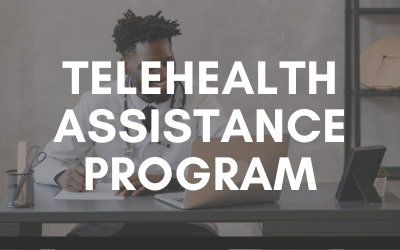 The State of Montana has received funding in a two-year grant from the Center for Disease Control and Prevention (CDC) to Address Health Disparities and Advance Health Equity Among Populations that are at High-Risk and Underserved. The funding is part of the federal COVID response under the American Rescue Plan. The CDC specifically required an allocation of funds for rural areas. The funds are provided through a two-year CDC grant (ending on 5/31/2023) to MT Department of Health and Human Services (DPHHS). DPHHS is contracting with the Montana Office of Rural Health/Area Health Education Center (MORH/AHEC) to implement the project.
The Telehealth Assistance Program is designed to support the expansion and availability of telehealth services, including mentalhealth and urgent care services, within high-risk,underserved, and rural communities.
Scope: Selected organization(s) will establish a telehealth accessibility program to pilot an Emergency Medical Services (EMS), Community Integrated Health (CIH), and Community Health Worker (CHW) to telehealth referral or alternate destination program within rural and/or tribal communities.
Funded Organizations' Deliverables:
By 07/31/2022, establish a user interface (i.e., HIPAA compliant virtual links) to facilitate telehealth (i.e., emergency care, mental health, etc.) connections with EMS, CIH, CHW and other healthcare providers. Proposals that incorporate EMS and CIH personnel must include a letter of support signed by the agency service manager and service medical director.

By 05/31/2023, participate in a report on rural and tribal utilization of telehealth services in partnership with EMS, CIH, and CHW within underserved, rural and tribal communities.
Timeline: Reimbursement is available to begin after a proposal is accepted and required and completed documents are received from the applicant by MORH/AHEC. Reimbursement for costs associated with the project will end on 5/31/2023. While the CDC funding for this project is scheduled to end on 5/31/2023, the DPHHS will request an extension if that is available and will share information about alternative funding sources if any have been identified.
Budget and Reimbursements: The ceiling amount for the grant is $1,000,000. It is intended to support multiple awardees and applicants are encouraged to examine existing partnerships or seek new ones to expand the reach of their proposed program. Organizations will send invoices for reimbursements monthly or quarterly. Reimbursements will be received 4-6 weeks after submission to MORH/AHEC.
---
This project is funded (in part or in whole) by grant number 1 NH75OT000080-01 from the Centers for Disease Control and Prevention of the U.S. Department of Health and Human Services and from the Montana Department of Public Health and Human Services. The contents herein do not necessarily reflect the official views and policies of the U.S. Department of Health and Human Services or the Montana Department of Public Health and Human Services.