Workforce Development Overview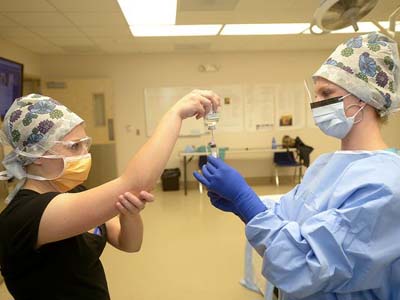 Karissa Willems, left, holds a vial of simulated local anesthetic as fellow surgical technician student Tauna Grove practices drawing a syringe during class on Tuesday at Great Falls College-MSU. Montana received a $15 million federal grant to help the state's two-year colleges create programs to improve health care education, making it more accessible to rural residents and more pertinent to health care providers.(Photo: TRIBUNE PHOTO/RION SANDERS) - Great Falls Tribune, Sept. 30, 2014
Montana, and the nation as a whole, is facing a healthcare workforce shortage. There are not enough healthcare providers to support the growing aging population, and healthcare reform will put further demands on the system. Nationwide it is estimated that 2.4 million new healthcare jobs will be open by 2014. To fill these positions we need to begin building "the healthcare pipeline" - a group of students across the nation with plans to enter into healthcare careers. Exposure to health careers must begin early in the educational experience, and students need opportunities to make them aware of the many attractive career choices available.
In 2006, the Montana Area Health Education Center and the Montana Office of Public Instruction teamed up to address the looming healthcare workforce shortage. Many innovative and vital programs have emerged or been strengthened via this partnership including secondary health science programs and MT HOSA - Future Health Professionals.
Regional AHECs offer continued exposure to health careers through innovative, hands-on activities such as; Curriculum in A Box, REACH programs and Med Start Camps. http://ou.montana.edu/healthinfo/workforce-development/pipeline-overview.html
Programs and committees that have been created to support Montana communities and the state's healthcare workforce are;
The Oral Health Project seeks to improve oral health in Montana. It is a three year project that focuses on access to dental care, improving dental education in Montana and increasing workforce retention rates of dentists and dental hygienists in rural Montana areas.