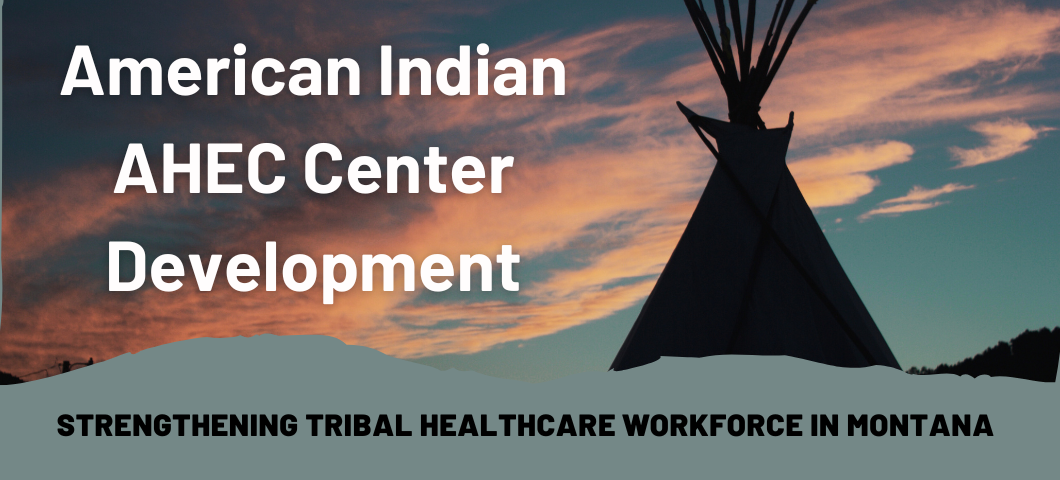 The Montana Office of Rural Health and Area Health Education Center Program Office is pursuing the development of an American Indian AHEC Center. The goal of establishing a Montana American Indian AHEC Center is to strengthen and develop health profession opportunities for American Indian people, therefore expanding access to quality healthcare for American Indian Montanans.
What is an AHEC Center?
Montana is currently home to five unique AHEC Centers. AHEC Centers work to expand healthcare workforce in rural and underserved areas across the state from their host organization in collaboration with MORH/AHEC.
Who Can Be A Host Organization?
All organizations committed to supporting statewide healthcare workforce relationships with tribal nations and communities across Montana are welcome to apply.
Host organizations are responsible for the fiscal, administrative, and human resource management of their AHEC Center. Host organizations work in partnership with the Montana AHEC Program Office to meet programmatic goals, develop strategies, and share resources that enhance health professions education and training for rural and underserved Montanans.
The selected host agency is a public or private organization whose structure, governance, and operationis independent from the awardee and the parent institution of the awardee.
Examples of current, regional host organizations:
AHEC Center Activities Overview:
A framing committee will beprovidedto support the development of the new center's formal workplan.
Recruit and support individuals from underrepresented minority populations and from disadvantaged and rural backgrounds into health professions.
Develop and implement strategies to foster and provide community-based training and education to individuals seeking careers in health professions within underserved areas.
Conduct and participate in interdisciplinary healthcare trainings.
Provide continuing education and information dissemination to healthcare professionals in underserved areas.
Funding and Administration:
Selected host organization will be awarded

$187,500 for the first 2 years and $110,693 for the second two years

(includes both direct and indirect, facilities and administrative costs).
Matching Requirement: this funding comes with a 1:1 match requirement with a 25% cash requirement. Funds used for matching may not be Federal. IMPORTANT: We have requested a match waiver and are awaiting the status of approval.
HRSA AHEC awards are made to the AHEC Program Office (MSU) who then subawards with the AHEC centers to conduct the required activities.
Staffing Requirements: AHEC Centers are required to have a .75 FTE Director.
Request For Proposals:
Timeline
Opens: Mid-October, 2023
Closes: January 31, 2024
Host Agency Selected March 2024
Technical Assistance Webinars
If you are interested in learning more, please join us for one of our upcoming Technical Assistance webinars!
Learn More About AHEC:
---
AHEC is funded (in part or in whole) by grant number HRSA-22-053 from U.S. Department of Health Resources and Services Administration.
---
Questions:
Kailyn Mock, Director
406.994.7709